I love the ladies @ Shanty2Chic, and when I recently saw they had a Rust-Oleum Revamp Party, I had to jump in and share the ceiling fan make over I did a month ago.
First thing's first, visit the party to see what's going on: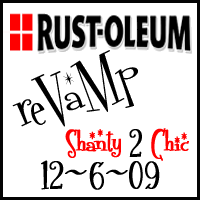 Now onto my project:

We had this ugly 90's colored brass ceiling fan, we are also parents of two and on a very limited budget (meaning we can't even afford a nice $60 new ceiling fan).
We were browsing the local Lowe's and I picked up this little dime piece (Rust-Oleum's Metallic oil rubbed bronze). I also picked up a can of frosted glass for my ugly globes. Sadly I did not see any in the Rust-Oleum brand).
First I took the brass pieces apart and cleaned them really well and let them air dry (no sanding or primer needed):
I then sprayed the pieces down with a total of 3 coats over a 24 hour period to allow the paint to cure:
The rest is history, I took that hideous ceiling fan and made it look beautiful for under 8 bucks. THANKS RUST-OLEUM, I can't wait to re do my other uglies in your wonderful spray paint!:)

I also redid these cabinet pulls within the last month as well:
With the year we had and Ethan recently having his surgery this past Monday at UNC children's hospital, we needed to save every dime we could, so we were thankful that there was a product out there that could give some of our home's ugly little things a nice face lift. This won't be the last time I use this product!
:::Added 7 December:::
Well my images came in today!! yaaay!! they printed on the money with the color also! I was shocked since I skimped and used snapfish instead of one of the higher end print companies like I usually use. I have got to tell you the last few times I have used mpix they screwed my colors up and I swore them off. My red would be purples and my hot pinks magents (EW). I'd print the same photo at another lab and it was just fine.
I printed ALL my Christmas photos for family & friends and got 35% off AND free shipping, HECK YES:) Oh but back to my redo...
I had this UGLY freaking picture my dad bought me in 2004, I NEVER hung it up it's SO not my style and I am not really into the whole 'amazing grace' thing. NO OFFENSE if you are:) It just doesn't go w/ the things I like..so anyway here's the before:
I had a field day disassembling this bad boy:
Broke out my Rust-Oleum, Brilliant Metallics ORB:
Sprayed that bad boy DOWN!!
While that dried I flipped the old picture backwards and matted the photos I took two weekends ago of my little ones:
And when it was dry to the touch (which wasn't long and because I am totally impatient..) I rematted and added the glass:
I love it but have no idea where to hang it, maybe my red den? maybe my living room? although my golden walls might not look good with black..maybe I'll add a coat of white and distress it?? what do you think?
Here's a size comparison (ignore the blur, I had it set for my night flash and it blurred up):